The Barcelona School of Economics is the leading institution for graduate education and research in Economics, Finance, and Data Science that offers full-time official nine-month Master's Degree programs taught entirely in English.
With BSE, you will learn from the experts, stand out to employers, and build an international network for life.
Find your BSE Master's Program
Today we want to tell you more specifically about the first out of these three key reasons to pursue your Master's at BSE: our research-led training by our world-ranking faculty.
BSE professors are not only experienced classroom instructors, but also accomplished researchers who publish in top academic journals and obtain competitive research grants. Studying with them guarantees that you will have access to frontier knowledge that is highly valued by recruiters and prestigious universities.
Acquire new frontier knowledge and quantitative skills directly from a research community that ranks in the Top 3 departments in Europe and the Top 10 worldwide (Source: RePEc, March 2022)
Thanks to the consolidation of a strong faculty of around 150 researchers, BSE's position has been rising consistently in the RePEc ranking of top Economic departments in Europe and the world.
In the last five years, BSE has entered the top 3 of the European ranking. At the worldwide level, BSE now ranks in the top 10 of the best Economics departments, after climbing positions in the ranking from 16th to 9th as shown in the chart below: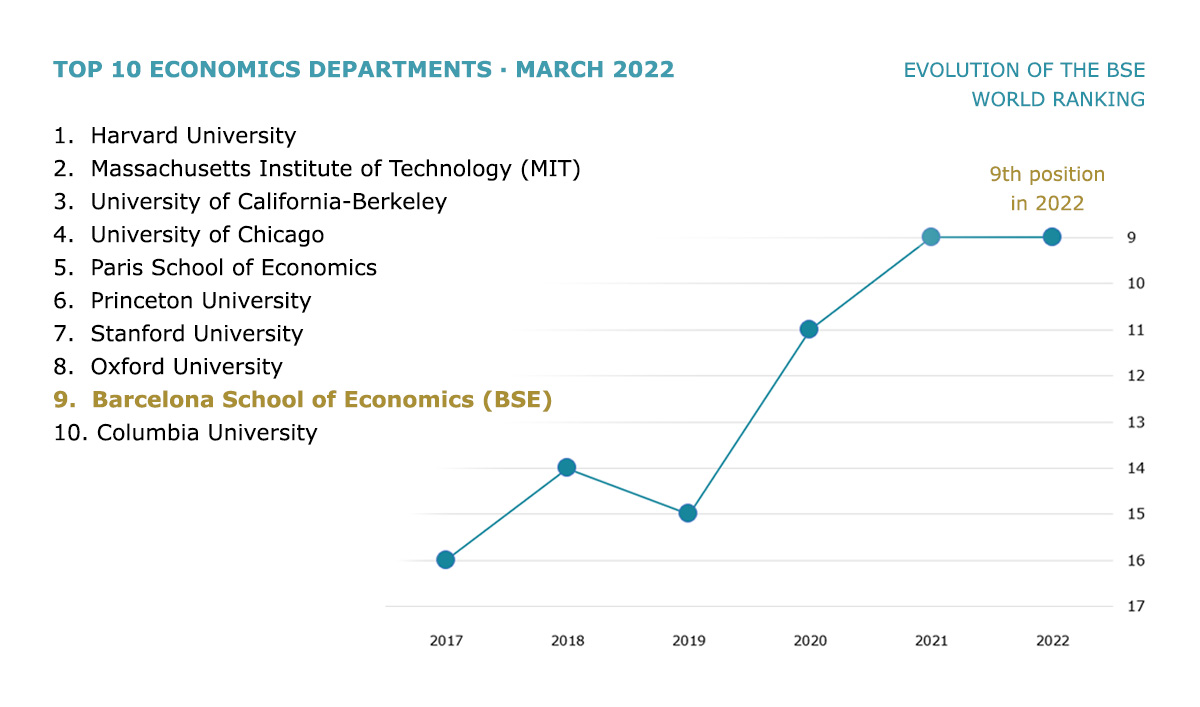 In addition, nearly one-third of the BSE faculty ranks in the top 10% of authors in Economics worldwide (Source: RePEc, March 2022).
Don't miss your opportunity to learn from BSE researchers!
The next edition of the BSE Master's programs begins in September 2022.
There are 10 programs of study to choose from, all designed and taught by our outstanding faculty.
Do you have doubts about which program is right for you? Our admissions team is here to help! Email an Admissions Counselor at admissions@bse.eu to get started.